National Collection - Tanacetum coccineum
Tanacetum coccineum (commonly known as pyrethrum, painted daisy, Persian daisy, Persian chrysanthemum, painted lady, florist's pyrethrum, or garden pyrethrum), is a hardy perennial, which adds striking colour to the garden with its showy, bright-coloured daisy-like flowers in early Spring through to early Summer.
Tanacetum were brought by plant collectors to the UK in the early 1800s, from South West Asia and The Caucasus region (Armenia, Azerbaijan, Georgia, and parts of Southern Russia). The plant breeder James Kelway raised many of the larger and brighter varieties following initial selection in their original sites on the continent. Tanacetum were popular in British gardens in the 1920s and 1930s when they were available as commercial cut flower, but almost all stocks were wiped out by a viral disease in the 1970s and a more limited number of cultivars now remain.
There are several cultivars of tanacetum and the National Collection currently contains pink-flowered Tanacetum such as 'Eileen May Robinson', 'Sam Robinson', 'Madalene', 'Princess Mary', 'Bees Pink Delight', 'Vanessa', 'Laurin', 'Evenglow' and 'Queen Mary', crimson red-coloured Tanacetum, including, 'Robinson Red', 'Bressingham Red', 'H.M. Pike', 'J. M. Twerdy' and 'James Kelway', and white-coloured cultivars such as, 'Aphrodite' and 'Snow Cloud'. Doubled-flowering cultivars include 'Queen Mary', 'Princess Mary', 'Aphrodite', 'Madalene', 'Alfred', 'JM Twerdy' and 'Vanessa'. The remaining cultivars in the collection are single-flowered, resembling the more traditional daisy-like flower that we all know.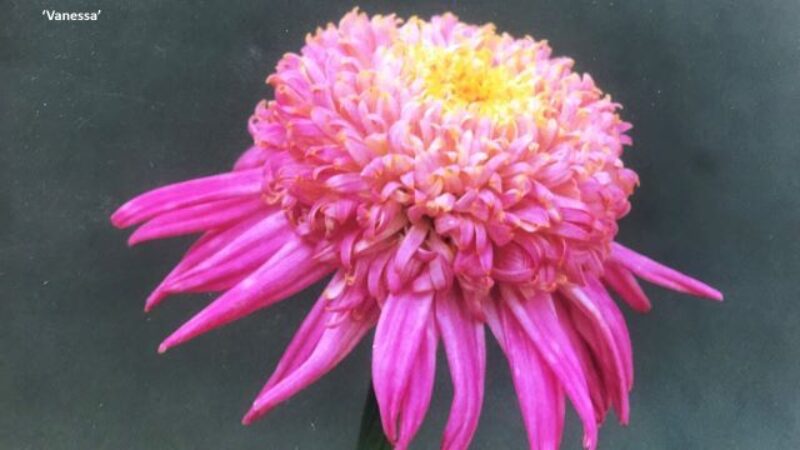 The Plant Heritage National Collection was previously cared for by Mr Goddard in Chingford, London who established the collection in 1986. The collection was moved to Cumbria in September 2021 where it currently has transitional status until it is established. The collection is currently split between two sites, at Holehird where it sits in a relatively exposed site and in a private walled garden in Silverdale, which has better protection from the elements. The collection currently contains 16 cultivars.
Plant Heritage
Plant Heritage, formerly The National Council for the Conservation of Plants and Gardens (NCCPG), is the co-ordinating charity behind the National Plant Collection scheme. Its aims are to conserve, document, promote and make available the great diversity of garden plants for the benefit of horticulture. The Lakeland Horticultural Society work collaboratively with Plant Heritage, there are now almost seven hundred National Collections around the United Kingdom.