The Lower Garden
The Lower Garden lies to the left of the drive below the Car Park and includes several outstanding features including the Gunnera Pool and Cascade, the Hydrangea Walk, the Woodland Walk and the Lower Terrace.  All are very distinct areas of planting, illustrating ways of dealing with the wide variety of growing conditions found at Holehird.
To the right of the Gunnera Pool, close to the Car Park, the Dale Panorama is the best place to take in the breathtaking view across Windermere to the Langdale Pikes and the Lakeland fells beyond.  Magnificent in all weathers, the mountains are a constant reminder of Holehird's place in the landscape.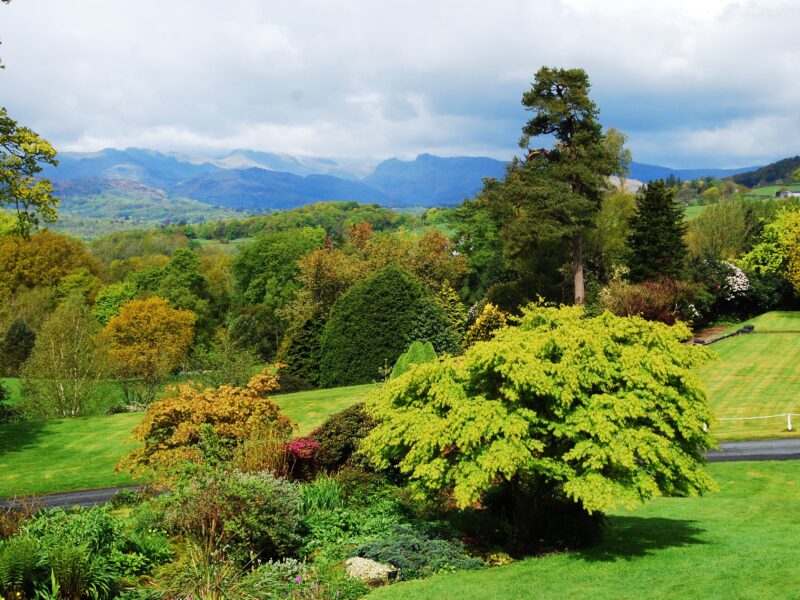 The Gunnera Pool is part of the Victorian system of largely underground pipes and conduits which direct water away from the fellside above the Paddock. The water flows beneath the Walled Garden into the Gunnera Pool and Cascade, before going underground again, emerging briefly on the Lower Terrace then down to Holehird Tarn and, eventually, into Windermere.   The boggy margins of the Gunnera Pool and Cascade provide the perfect conditions for the Gunnera itself, as well as a range of primulas, iris, ferns and other moisture-loving plants.
A small stone bridge across the Cascade leads to the Woodland Walk.  The canopy is provided by some magnificent old trees such as Sequoia sempervirens (Californian redwood) and the rarely-seen purple-leaved common oak, supplemented by more recently planted acers.  The ground is carpeted with spring bulbs, particularly snowdrops, native wildflowers and ferns.
The lower end of the Woodland Walk emerges close to the Hydrangea Walk, home to our Lakeland Collection of Hydrangeas.  The aim of the Collection is to demonstrate which species and cultivars will grow best in Lake District conditions.
From the Hydrangea beds a path leads to the Lower Terrace where a range of shrubs and small trees will be found.  Here you will also find a primula bed displaying a range of colourful candelabra primulas, Asiatic lilies, arisaemas, and traces of the old Victorian fernery.  The Lower Terrace is bounded by a ha-ha, a landscape device, in this case a sunken wall, which creates the illusion that there is no boundary between the garden and the landscape beyond, while at the same time preventing grazing livestock from entering the garden.
From the Lower Terrace a kissing gate gives access to a waymarked route around Holehird Tarn.  Although not part of the Gardens, visitors are free to walk around it.  The path emerges near the coach park at the bottom of the drive and may be muddy in places.