Summer
There is so much to see at Holehird in summer that it is difficult to pick out the highlights.  The Walled Garden is an abundant mass of colour at this time of year but there are not to be missed delights worth seeking out in all areas.

Summer sees the Walled Garden at its best, with carefully chosen planting selected for continuous colour and interest throughout the summer months.  Particularly notable are the masses of dahlias which grace the island beds.  The patio area is a suntrap where visitors can sit and admire the repeated planting of the Terrace pots, the Alpine beds and troughs and enjoy the scent from the herb beds.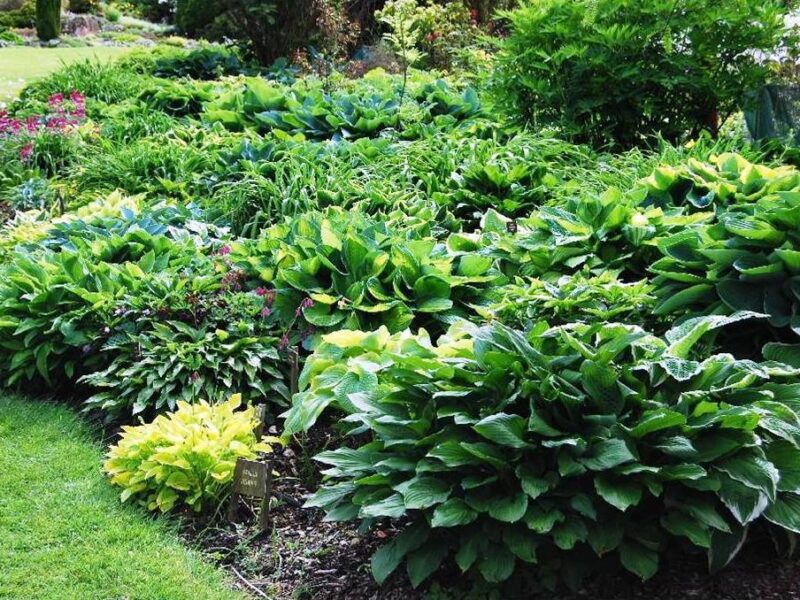 Beyond the Walled Garden, the Davidia Bed contains a huge variety of hostas of all sizes and shades of green, interspersed with more dahlias and daylilies.  On the opposite side of the Drive, the National Collection of Astilbe is a frothy mass of all shades of pink, lilac and white from early summer onwards.  Later in the season, the National Collection of Daboecia, summer-flowering heathers, come into flower, at their best from August to October.
Roses are considered to be difficult plants to grow in the Lake District but those at Holehird have been chosen especially for their ability to withstand the sometimes challenging climate.  The newly planted Buddleja Bed is sure to be a magnet for butterflies throughout the summer.
Primulas, found in all the damp areas of the Gardens but particularly on the Lower Terrace and alongside the Cascade, are generally at their best in early summer.  The 2 metre tall cardocrinum lilies, at the back of the primula bed are an unexpected highlight.  Having flowered, the plants die back and need to be replaced the following year with new stock grown at Holehird.
And finally, one of the glories of Holehird in summer is the Hydrangea Walk, with around 200 species and hybrids selected for their suitability for our damp, northern climate.  There are picnic benches here, too.